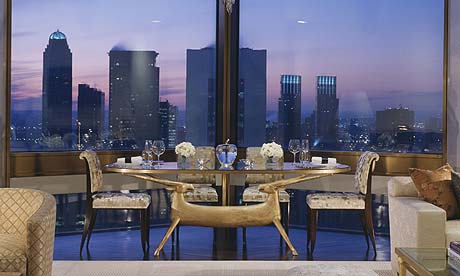 1. Four Seasons Hotel, Manhattan
This luxury hotel offers the best room view of Central Park and is an excellent getaway for newly-weds who want a luxurious Manhattan feel, with a fireplace, jacuzzi and private bar to one's disposal. For a $15,000 price tag, it is no wonder that one can experience every bit of luxury that a honeymooning couple deserves, and ranks as one of the top on the list for honeymoon hotels in the world.
2. Hotel Ritz Paris, France
Paris is the city of love, and what better way to spend your honeymoon by getting a Prestige Suite in this lavish and legendary hotel. Priced at $6,000 a night, you can feel like royalty with accommodating staff, the finest restaurants, and Rolls-Royce pickup service, which makes anyone
feel like a millionaire
.
3. Halekulani Waikiki, Hawaii
For a $4,000 luxury suite designed by Vera Wang per night, this is definitely one of the most relaxing and serene luxury honeymoon hotels in the globe. You can expect to be cooked meals by a chef who cooked for the royal family.
Ever dream of spending your honeymoon in these 3 luxurious hotel getaways? You can
play international lotteries online
and try your luck to
win big cash prizes
and have the honeymoon of your dreams.